Personal Financial Resources
Track all of your spending in one place with Origin's Personal Financial Management Tool.
Personal Financial Management 
Who has time for budgeting? You do, thanks to our online financial management tool. Origin customers have access to our Personal Financial Management tool that's integrated into the rest of your favorite banking features.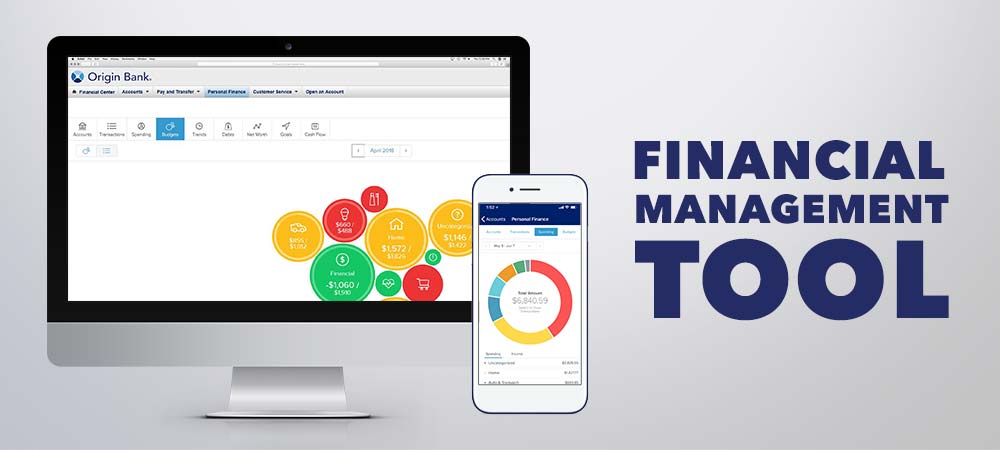 The tool gives you more control over your money with a number of features:
Budgeting
Account aggregation
Auto-categorization
Debt Management


Using the feature is simple - just log in to the desktop version of your Origin online banking portal and click on the Personal Finance tab to register. Once it's installed, the Personal Financial Management tools are integrated into your desktop banking and your mobile app.
All your accounts and spending are tracked in one place. It even categorizes each transaction. How much have you spent on groceries this month? How much is left on your auto loan? The information is organized in a single location, making it easier than ever to manage your budget and reach your financial goals.
The Personal Financial Management tool is part of Origin Bank's ongoing commitment to invest in technology that makes banking simpler and more rewarding for our customers. Want to learn more about this feature? Visit our Personal Finance Help page for helpful user guides and videos. To become an Origin Bank customer, call us at 888-292-4037 or come by one of our banking centers today!
Watch the video below for a sneak preview:
* You must have an Origin Bank account to register for the online banking solution and to use the app.